Beer gravity is certainly not one of the best well-known aspects of beer. I would argue, however, that it's one of the most important aspects. Some people, and indeed most craft beer lovers, are familiar with a few beers of different strengths. Knowing these different strengths, you are already aware of the effects of gravity and what the change in gravity reaps, even if you don't know that you know that yet. So let's collectively extend our beer knowledge to what brewers mean by gravity.
First off, this is not the kind of gravity that caused an apple to fall on Newton's head. Instead, what brewers mean by gravity is simply the density of the wort compared to water. The full low-down on wort is beyond the scope of this post and will be discussed one day. For now, it's safe to understand that wort is unfermented beer. Another important bit about wort is that it's full of sugar and when the wort starts fermenting (changing into beer) that sugar gets eaten and turned into alcohol (and some other stuff).
Original Gravity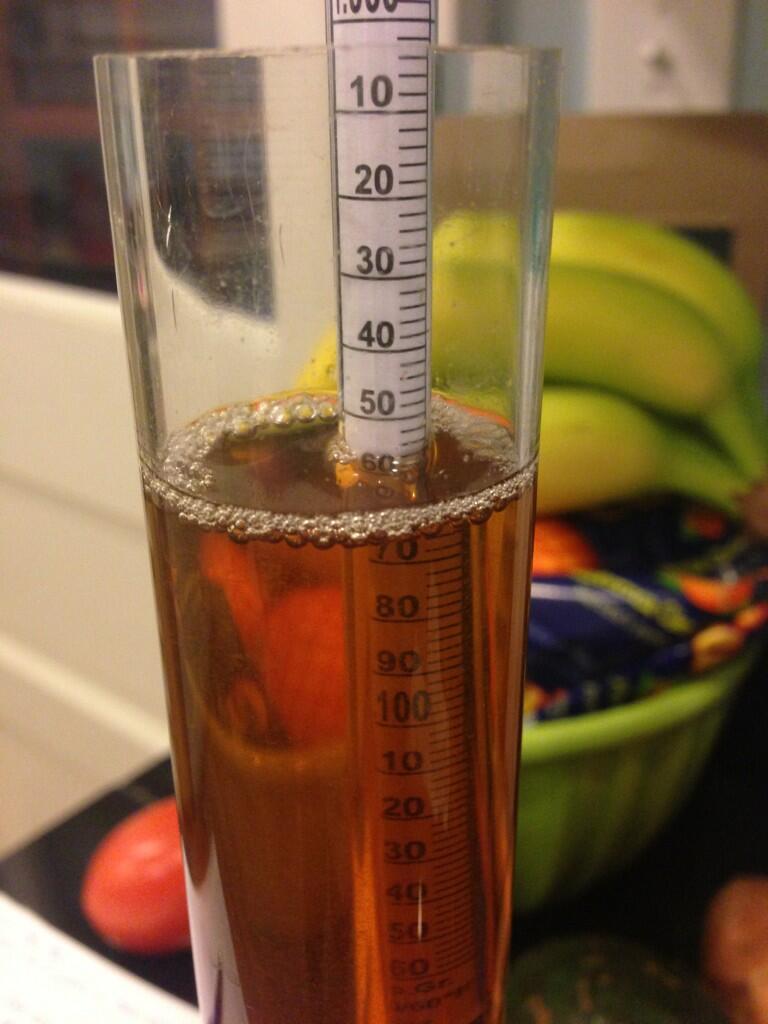 As I said before, gravity is the density of the wort compared to water, measured in comparison to water. So the density of water is 1.000, and the density of a wort may be 1.050, meaning the wort has 50 degrees of excess gravity, and the beer has an original gravity of 50.
Once we've got the measurement of original gravity we can add yeast, which starts the fermentation process. The yeast begins eating the sugar which makes alcohol (woo hoo) and carbon dioxide. Eating away at the sugar also makes everything less dense, thus lowering the gravity. Once most of the sugar have been eaten this means fermentation is done and you can now get the final gravity.
Final Gravity
The original gravity was just the density of the wort compared to the water and so the final gravity is the density of beer compared to water. So we went from 1.050 down to something like 1.011 or a final gravity of 11. The difference in these two numbers plus some complex algebra, which I'm not getting into, is how brewers determine the alcohol by volume of a beer. The bigger the difference in original vs. final gravity means the stronger the beer. Which is why really strong beers are sometimes referred to as high gravity beers.
Another facet of the impact of gravity is that very different styles of beer can start at the same original gravity but can differ drastically in their finishing gravity. A high finishing gravity makes for a sweeter, maltier taste. A lower finishing gravity makes for a drier beer.
Triple Digit Brewing and Gravity
One last fun fact about the gravity of beer is that it's the source of a local breweries name. Triple Digit Brewing is named after a gravity of 1.100. All of their beers have an original gravity of 1.100 or higher, 100 being a triple digit gravity. While gravity is a small part of why their beers are so good, it's a big part of the reason their beers are 10% or higher!
All this knowledge about gravity may not make a difference in what, why, or how you drink. But next time you're out drinking a nice strong beer with your friend you can feel smart for knowing one reason why it's strong and you can use that to impress your drinking buddies!